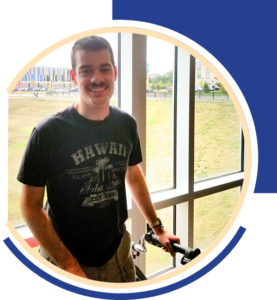 Dylan Farmer:
Knowing No Boundaries
When Dylan Farmer was born his parents knew he was a force to be reckoned with. Even though Dean and Patsy recognized the signs of developmental and physical delays early on, it was clear Dylan was determined to do life on his own terms. Through his own perseverance and his parents' ardent advocacy, any obstacles Dylan has encountered over the past 20 years didn't stand a chance at holding him back.
At two, Dylan was enrolled at the Belle Center an inclusive, early childhood education center which would become part of the St. Louis Arc in 2012. He spent three years learning and growing – now prepared for the path ahead as the search for a school began.
The greatest obstacle was finding a school that accommodated Dylan and his walker. Cerebral Palsy affects body movement and muscle control so his walker serves as an extension of his body – providing the mobility independence he requires. But schools often lacked ramps or safe passageway to and from playgrounds and the classrooms. In some cases cafeterias were multi-level rooms that isolated kids with disabilities. Dean and Patsy advocated for change, learning that any transition would require a lot of communication and clear expectations of what Dylan would need to be successful.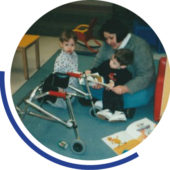 Dylan excelled academically, earning recognition in high school with the honor society and natural history honors society. He also began developing work skills by participating in the St. Louis Arc's Summer Employment program. Dylan volunteered at the Missouri History Museum, the Historical Society Research Library, and worked at the front desk for St. Mary's Hospital.
Today, Dylan attends Maryville University and is pursuing a Bachelor's degree in History with a Minor in Writing and Communications.
He carries, on average, a 14-hour course load. In his spare time he participates in ABLE (Abolish Barriers to Learning and Empowerment) on campus and was recently asked by the Chair of the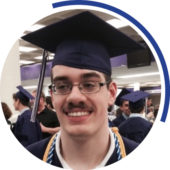 Physical Therapy/Occupational Therapy department at Maryville to join their committee which addresses accessibility issues for college students on campus. Dylan has become the advocate his parents always wanted him to be – making strides for students with disabilities and making the world a better, more inclusive place for everyone.
This year, our featured story reminds us how vital St. Louis Arc's lifetime of support really is. For every child…teen…adult…and family there is an organization that knows no boundaries. As you consider your giving this season, please consider supporting the St. Louis Arc's mission to empower people with developmental and intellectual disabilities and their families for a lifetime. Make a difference and take part in a vision that touches more than 4,000 lives every single year. Give the greatest gift you can give a person with disabilities – the gift of opportunity.