Superheroes for Kids
Location: Palladium St. Louis, 1400 Park Pl., St. Louis, MO 63104
Date: Thursday, April 19, 2018
Time: 6:30 p.m.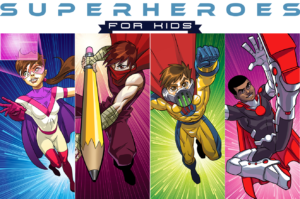 Superheroes for Kids is a cosmic cocktail party of epic proportions. Enjoy spectacular food, drinks and entertainment all in support of the St. Louis Arc's programs for children with developmental disabilities. Arrive dressed as your favorite comic book hero — or come as you are — but everyone will go home a superhero!
The event is made possible through the leadership and creativity of honorary co-chairs, Mary and David Steward II, and event chairs, John and Mimi Londoff, Bhavik Patel, Paul and Teri Weber, and Richard and Kathie Winter. Julie J. Williams, founder of the Maren Fund and director of the Learning Program of St. Louis, will be honored with the 2018 Superheroes for Kids award.
Learn more about becoming a sponsor for the 2018 Superheroes for Kids event.
Check out last year's super event!
For more information, contact Tessa Klassen, Special Events Manager, at 314-817-2241.
Presented by: