Providing family centered occupational, physical, and speech therapies to children where they learn best
In Your Home or In Our Centers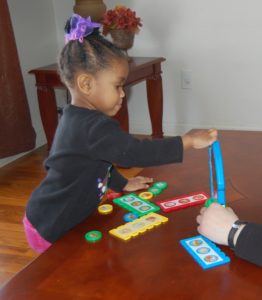 Providing services in a variety of places helps a child learn and makes it easier on families to implement therapy into their already busy lives. In addition to our center based therapy, our therapists travel to meet families in their homes or other natural environments in the community. Natural environments may include your child's daycare, favorite restaurant, or a grandparent's home – wherever your child feels comfortable spending time.
Picture some of the ways our therapies can benefit your child:
A weekly visit from a speech therapist to a classroom to help a child work on language and communication skills. Therapists work with a child in the classroom during their natural routine and in the company of their peers and teachers.
A visit from an occupational therapist to a summer day camp to help work on fine motor skills, in the context of an art project. Therapists "integrate" therapy into a child's day with the encouragement and involvement of other children. In this context, the therapist works directly with the child, as well as the staff.
Program evaluations and in-service training for community organizations that serve your child. Our services are designed to guide the staff of organizations on how to successfully include children with developmental delays and disabilities as true participants in their programs. Additionally, we assist family members and caregivers in recognizing, facilitating, and building on their child's developmental milestones.
Types of Therapy Offered: Occupational, Physical, and Speech and Language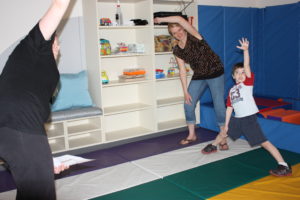 Occupational Therapists assist young children who are experiencing difficulties with sensory processing, fine motor, and self-help skills.
Physical Therapists focus on the evaluation and treatment of movement, such as posture, mobility, and balance.
Speech and Language Therapists help young children improve communication.
To schedule an evaluation for Occupational, Physical, or Speech Therapy, contact
Michelle Fricks, Coordinator of Therapy Services.
Classes
Music Therapy
Children's music groups utilize music therapy techniques and principles that support children in developing abilities that are strengthened and transferred to other areas of their lives, while having fun and learning to be successful in a small group setting. Click here to download a registration form. For more information, please contact Clinton Hall, Coordinator of Leisure Services, at 314-817-2293.  
Download the Winter Winter 2017 Leisure Times and Registration Form for a complete schedule of activities. For financial assistance, please click here.