Build a network within your community, while also building life skills.
CONNECT
CONNECT creates opportunities to build natural networks and positive experiences through a range of individualized and community supports. CONNECT services facilitate successful transitions to adulthood and maximize independence.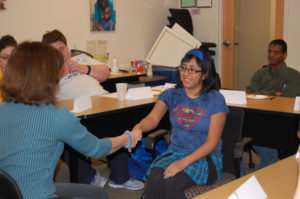 Individualized Support
Life Coaching: Building Self
Discover your strengths and abilities, while establishing an actionable plan and learning accountability techniques that will enable you to achieve personal success.
Transition to Independence: Building Skills
Receive needs-based, one-on-one supports focused on self-reliance and personal goal achievement.

Community Support
CONNECT-U: Building Knowledge
Gain knowledge and develop life skills through a variety of workshops and learning opportunities.
eCONNECT: Building Networks
Strengthen peer supports through technology, including virtual online communities and social networking.
CONNECT Communities: Building Relationships
Make friends and build meaningful relationships through meet up groups, social events, and fun activities.
For more information on CONNECT, contact Beth Moeller, Director of Community Living at
314-817-2271.
Leisure Activities
If you are ready to take the next step to meet new people on your own, the St. Louis Arc offers a wide array of sports and leisure activities. These classes, activities, and sports leagues provide people of all abilities the opportunity to stay active, meet new people, and have fun.
Monthly classes and events for adults such as music, cooking, dances, and book clubs.
Seasonal club and league sports for adults of all abilities like soccer, bowling, softball, golf, and basketball.
Download the 2018 Fall Leisure Times and Registration Form for a complete schedule of activities. For financial assistance, please click here.