Embedded Early Education Model
A direct and consultative service model designed to provide an "on the site" comprehensive support to teachers in community-based, inclusive early childhood settings.
Our Inclusive Classrooms
The Embedded Early Education model provides weekly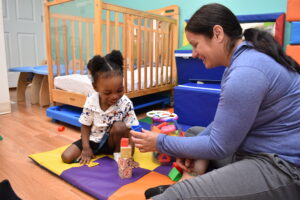 special education related supports inside early education classrooms. The Arc's Early Learning Specialists provides support to the individual child in the classroom, additional support to the teacher, and education to the family. The goals of the Embedded Model are to identify and support young children with developmental delays and disabilities to develop and learn in their chosen setting, and increase capacity of local child care centers and families to identify and meet children's needs.
Embedded Early Education
Trained Early Learning Specialists partner with early childhood centers to provide support to individual children, teachers, and families. St. Louis Arc staff observe, model, and build relationships with children and teachers in the classroom. Arc staff work with each individual teacher as they lead their classroom as a whole. As rapport is built, developmental screenings are completed, and action plans are created for children with specific goals and strategies. Teachers and family members are assisted in implementing each child's plan.
For more information on this program, please contact Dana Walker at 314-817-2295.