Build a network within your community, while also building life skills.
Social Opportunities
The Arc provides a variety of social and recreational opportunities to encourage you to get out and try something new. Discover a new hobby or interest while getting to know new people and exploring your community. We offer many opportunities to practice the social skills and techniques you've learned along the way.
Bounce Forward
Transition-age young adults (16-30) sometimes need extra guidance as they plan for their future.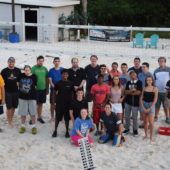 Bounce Forward events provide opportunities for young adults to network with peers who are looking to find a friend, a roommate, an apartment, or who just want to start thinking about their future. Events are held at various times throughout the year to help promote casual conversations and opportunities to meet others with similar interests. For additional information on Bounce Forward or the Bounce Forward Facebook group, please email [email protected]
Leisure Activities
If you are ready to take the next step to meet new people on your own, the St. Louis Arc offers a wide array of sports and leisure activities. These classes, activities, and sports leagues provide people of all abilities the opportunity to stay active, meet new people, and have fun. View or download a PDF of the 2024 Winter Leisure Times for a complete schedule of activities or visit the online registration page.
Employment and Volunteer Options
Building skills during our teen summer programs, volunteering in your community, or building a resume to find a job, the St. Louis Arc offers services to help guide you as you plan for the future.
Summer work experience opportunities for teens.
Build employment skills with Pre-Employment Training, or start exploring competitive employment with job discovery, exploration, development, coaching, and retention.
Community Integration Services provides daily support to adults with intellectual and developmental disabilities, so they can become active participants in their community.