March 2017 Workshops
Life Coaching 101
Thursday, March 2 6:30 – 8:30 p.m.
Life coaching is a process of pursuing your personal or professional goals through individualized coaching conversations. Our life coaches are trained to ask thought provoking questions and hold people accountable in the pursuit of their best life. Individuals supported by the St. Louis Arc have used the coaching process to clarify where they want to go and how they are going to get there. Using techniques such as powerful questions, reframing, envisioning, and challenges, the coaching relationship can help you clarify where you want to go in life and create a partnership to take steps towards your desired future.
Planning Ahead: Estate Planning
Tuesday, March 14 6:30 – 8:30 p.m.
You may unintentionally disqualify your loved one from receiving public benefits, or not be able to support their future financial needs by having no financial plan. Learn how to plan financially for your family. Topics will include avoiding probate, estate tax planning, creditor protection, wills, and planning for the distribution of property and assets, including charitable giving. This workshop is for anyone who is caring for a family member with a developmental disability of any age.
How Children Learn in a Constructivist Classroom
Wednesday, March 22 4:30 – 6:00 p.m.
Project Construct, the curriculum implemented at Childgarden, is derived from the belief that learning is a lifelong process in which learners construct knowledge through interactions with their physical and social environments. Through "hands-on, minds-on" learning experiences, students in Project Construct classrooms attain deep understandings in the core content areas, while also learning to work collaboratively with adults and peers in vibrant learning communities. Listen and ask questions about how your child learns in a constructivist classroom. Hear what the research is saying about the benefits observed as these children move on to elementary school and eventually out into the workplace.
* The Constructivist Classroom workshop will be held at: Childgarden Early Childhood Center in the Central West End – 4150 Laclede Avenue, St. Louis, MO 63108. Childcare is available for this workshop. A RSVP for childcare is required one full week prior to each workshop date.
April 2017 Workshops
Self-Directed Services
Wednesday, April 5 6:30 p.m. – 8:30 p.m.
Self-Directed Services are one option available through the Department of Mental Health, St. Louis Regional Office for individuals who wish to exercise more control and authority over their own supports. This option allows an individual or their designated representatives the authority to hire, train, and schedule their own employees, and utilize an individualized budget through a Medicaid Waiver.
Residential Options
Tuesday, April 11 6:30 p.m. – 8:30 p.m.
This workshop will address residential options, with two concurrent sessions being held to provide information for:
Individuals who will need 10 hours or less of staff support per week (St. Louis County funding/private pay)
Individuals who will need more than 10 hours per week of staff support (Department of Mental Health funding)
Tools for Wellness and Relaxation
Thursday, April 13 6:30 p.m. – 8:00 p.m.
When caring for others, you must also prioritize your own health and wellbeing. This class will teach various techniques from yoga, meditation, visualization, and Energy Medicine to provide a broad-range of stress management tools to access when you are feeling overwhelmed.
Family Resource Market
Thursday, April 20 3:00 p.m. – 7:00 p.m.
At this free event, families schedule 15 minute appointments for one-on-one discussions with representatives from various agencies and organizations, to learn more about how to access the services they provide. Advance registration is required for one-on-one appointments and some agencies have limited availability.
Participating agencies include:
Medicaid
Vocational Rehabilitation
St. Louis Regional Office
Social Security and SSI
For a complete listing of workshops through May, please download our full brochure.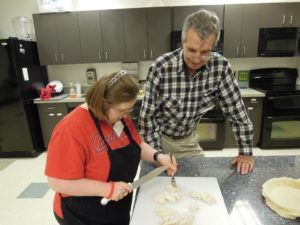 Download the full Family Workshops Schedule
To attend any of these workshops, please RSVP to Brianne Smith, Information Coordinator of Family Support, at 314-817-2216.