Community members, volunteers, and St. Louis Arc staff lend their professional expertise to provide information and resources in a variety of workshops. Workshops are offered in two sessions, January – May and September – December. The Arc offers a small selection of handouts and resources from the Family Workshop Series available for download.
November
Guardianship and Alternatives for Adults
Thursday, November 15
6:30 – 8:30 p.m.
At age 18 your child becomes a legal adult and has the legal ability to sign a contract, make decisions about their education, and decide who can be present in their IEP meeting. This workshop will help prepare you to assess your family member's decision-making skills, their circle of influence, and answer questions about pursuing legal representation on their behalf.
 Positive Parenting Interventions and Supports
Wednesday, November 28
4:30 – 6:00 p.m.
Location: Childgarden Early Childhood Center in the Central West End
Join us for this positive approach to meeting the challenges of everyday life. Learn new ways to set up the many environments of your child's life for success! We invite you to consider changes that will increase your child's success and decrease your own frustration. We'll discuss effective ways of setting limits and creating manageable household rules that will lead to building positive interactions and loving relationships within your family. This workshop will include time for specific questions and brainstorming within the audience.
Planning for Retirement (Beginner)
Thursday, November 29
6:30 – 8:30 p.m.
Has your focus on your family member with a disability kept you from planning for your own good retirement? Planning for retirement requires many decisions that impact quality of life for you and your loved ones. Learn how to manage your own retirement and understand the implications that retirement choices have on the entire family. This workshop is focused on planning for the retiree and is appropriate for parents, grandparents, and siblings.
December
Preparing for Employment
Tuesday, December 4
6:30 – 8:30 p.m.
This workshop will provide information about preparing for employment, funding options available, and services in the community to help support individuals with developmental disabilities in the workforce.
Planning Ahead: Estate Planning (Intermediate)
Wednesday, December 5
6:30 – 8:30 p.m.
Learn how to plan financially for your family, and avoid unintentionally disqualifying your loved one from receiving public benefits. Topics will include estate tax planning, creditor protection, wills, avoiding probate, and planning for the distribution of property and assets, including charitable giving. This workshop is for anyone who is caring for a family member with intellectual and developmental disabilities of any age.
Combined Workshop: How to Choose a Special Needs Trustee Duties of Guardians and Conservators (Intermediate)
Thursday, December 6
6:30 – 8:30 p.m.
How to Choose a Special Needs Trustee
What qualifications, duties, and responsibilities does a person need to have in order to oversee a Special Needs Trust? This workshop will cover the basic qualifications and what is needed to step into this important role.
Duties of Guardians and Conservators
If you find that your family member needs a guardian, who is the best choice to fill that role? Guardianship can be one of the most important decisions you make for your family. Once someone has a guardian, they are no longer legally able to make medical or financial decisions for themselves. This becomes the responsibility of the person who is appointed to become their guardian. Find out what qualities and qualifications are the best match for fulfilling the role of a guardian for your family member.
What Tools are Right for Your Family?
Tuesday, December 11
6:30 – 8:30 p.m.
ABLE Accounts, Guardianship, Powers of Attorney, Special Needs Trusts, oh my! Which tools do you need to utilize to help your family member thrive and be as independent as possible? This workshop will look at the least restrictive ways to preserve benefits and independence for your family member with disabilities.
Are You Ready for College?
Wednesday, December 19
6:30 – 8:30 p.m.
College is a realistic option for people with intellectual and developmental disabilities. Get information about how to prepare for and choose a college, discuss the many changing role of families, and learn strategies for families and students on how to navigate those changes.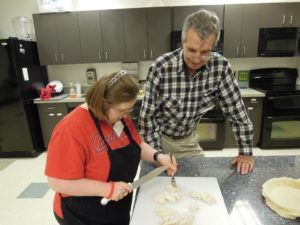 Download the Fall 2018 Family Workshops Schedule
To attend any of these workshops, please RSVP to Brianne Smith, Information Coordinator of Family Support, at 314-817-2216.