November 2017
Home Alone Skills and Internet Safety for Teens, Adults, and Families
Thursday, November 30
6:30 p.m. – 8:30 p.m.
Home Alone Skills – 1st Hour:
How do you know if your family member with intellectual and developmental disabilities is safe to be alone at home? How can you increase their skills so that they are able to spend more time being safely alone in their home? This workshop will work through an assessment tool designed to help you determine if your family member can be on their own, for how long, and what areas to focus on to help your family member increase their independent living skills.
Internet Safety – 2nd Hour:
This section will cover how to effectively use the internet, including programs such as Facebook and Twitter while considering safety, bullying, and how postings may affect your safety and reputation.
December 2017
Guardianship and Alternatives for Adults (Central West End)
Tuesday, December 5
6:30 p.m. – 8:30 p.m.
When your child turns 18, they become a legal adult and they have the legal ability to sign a contract, make decisions about their education, and decide who can be present in their IEP meeting. Caregivers of individuals with intellectual and developmental disabilities must make important decisions prior to their child becoming a legal adult. This workshop will help prepare you to make an informed decision about your child's future.
Our Unique Family (Central West End)
Wednesday, December 6
5:00 p.m. – 6:00 p.m.
Families come in all ages and sizes! Are you a single parent, a grandparent raising young children, two parents sharing children across two home settings, or maybe a blended family? Join us for a lively and thoughtful discussion of the joys and challenges shared by yourself and others. Our panel of experts will share insights and welcome discussion.
How to Choose a Special Needs Trustee
Thursday, December 7
6:30 p.m. – 8:30 p.m.
What qualifications, duties, and responsibilities does a person need to have to oversee a Special Needs Trust? This workshop will cover the basic qualifications and what is needed to step into this important role.
Making the Most of Your Yearly Meeting
Tuesday, December 12
6:30 p.m. – 8:30 p.m.
An annual Individualized Education Program (IEP) or Individualized Service Plan (ISP) creates an individualized roadmap for professionals to deliver supports and services. Debra Fiasco, Parent Education and Diversity Awareness Administrator for Special School
District, and Kadesh Burnett, Family Supports Coordinator for the Department of Mental Health – St. Louis Region, will demystify the planning process and answer your questions about best practices for planning. You will learn how to prepare yourself and your child to advocate before, during, and after the meeting using planning tools from the Life Course framework.
Planning Ahead: Estate Planning
Thursday, December 14
6:30 p.m. – 8:30 p.m.
You may unintentionally disqualify your loved one from receiving public benefits, or not be able to support their future financial needs by having no financial plan. Learn how to plan financially for your family. Topics will include estate tax planning, creditor protection, wills, avoiding probate, and planning for the distribution of property and assets, including charitable giving. This workshop is for anyone who is caring for a family member with intellectual and developmental disabilities of any age.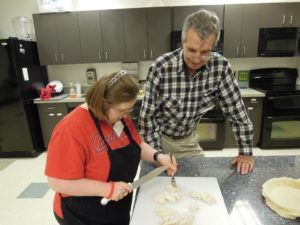 Download the full Fall 2017 Family Workshops Schedule
To attend any of these workshops, please RSVP to Brianne Smith, Information Coordinator of Family Support, at 314-817-2216.