September 2017
Wednesday, September 27
Residential Options
6:30 p.m. – 8:30 p.m.
This workshop will address residential options with two concurrent sessions being held to provide information for:
• Individuals who will need 12 hours or less of staff support per week (St. Louis County funding/private pay)
• Individuals who will need more than 12 hours per week of staff support (Department of Mental Health funding)
Thursday, September 28
Positive Behavior Supports
6:30 p.m. – 8:30 p.m.
Learn new ways to understand why your loved one with a disability is having problem behaviors, and develop simple strategies to help them handle the world around them. Learn how to utilize positive behavior supports that focus on understanding behavior as a form of communication and discovering individualized motivators. These strategies can be effective and sustainable for everyone in the family. This workshop is intended for those caring for teens or adults with intellectual and developmental disabilities.
 October 2017
Tuesday, October 3
Home and Community Based Waivers: A Family-Centered Approach to Understanding Division of Developmental Disabilities Medicaid Funding Streams
6:30 p.m. – 8:30 p.m.
This workshop will discuss approaches to planning a meaningful life and how waivers such as Partnership for Hope, Sarah Lopez, Community, and Comprehensive Waivers can be used to support this process.
Thursday, October 5
Are You Ready For College?
6:30 p.m. – 8:30 p.m.
College is a realistic option for people with intellectual and developmental disabilities. Get information about how to prepare for and choose a college, discuss the changing role of families, and learn strategies for families and students on how to navigate those changes.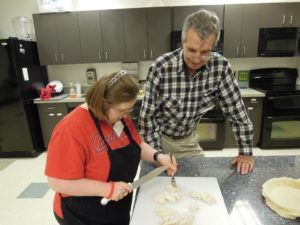 Download the full Fall 2017 Family Workshops Schedule
To attend any of these workshops, please RSVP to Brianne Smith, Information Coordinator of Family Support, at 314-817-2216.