Community members, volunteers, and St. Louis Arc staff lend their professional expertise to provide information and resources in a variety of workshops. Workshops are offered in two sessions, January – May and September – December. The Arc offers a small selection of handouts and resources from the Family Workshop Series available for download.
October
Home Alone Skills and Internet Safety for Teens, Adults, and Families
Wednesday, October 24
6:30 – 8:30 p.m.
Home Alone Skills
How do you know if your family member with intellectual and developmental disabilities is safe to be alone at home? How can you increase their skills so that they are able to spend more time being safely alone in their home? This workshop will work through an assessment tool designed to help you determine if your family member can be on their own, for how long, and what areas to focus on to help your family member increase their independent living skills.
Internet Safety
This section will cover how to effectively use the internet, including programs such as Facebook and Twitter, while considering safety, bullying, and how postings may affect someone's safety and reputation.
Save with Missouri ABLE Accounts (Intermediate)
Thursday, October 25
6:30 – 8:30 p.m.
Missourians with disabilities are now able to sign up for tax-advantaged savings accounts without having to risk losing federal benefits. This tool can help people save, without penalties to their Medicaid benefits. With these accounts, individuals in the disability community will be able to save money for things like education, medical expenses, housing, and more. This workshop will answer all of your questions about Missouri ABLE (Achieving a Better Life Experience) accounts.
NOVEMBER
Guardianship and Alternatives for Adults
Thursday, November 15
6:30 – 8:30 p.m.
At age 18 your child becomes a legal adult and has the legal ability to sign a contract, make decisions about their education, and decide who can be present in their IEP meeting. This workshop will help prepare you to assess your family member's decision-making skills, their circle of influence, and answer questions about pursuing legal representation on their behalf.
 Positive Parenting Interventions and Supports
Wednesday, November 28
4:30 – 6:00 p.m.
Location: Childgarden Early Childhood Center in the Central West End
Join us for this positive approach to meeting the challenges of everyday life. Learn new ways to set up the many environments of your child's life for success! We invite you to consider changes that will increase your child's success and decrease your own frustration. We'll discuss effective ways of setting limits and creating manageable household rules that will lead to building positive interactions and loving relationships within your family. This workshop will include time for specific questions and brainstorming within the audience.
Planning for Retirement (Beginner)
Thursday, November 29
6:30 – 8:30 p.m.
Has your focus on your family member with a disability kept you from planning for your own good retirement? Planning for retirement requires many decisions that impact quality of life for you and your loved ones. Learn how to manage your own retirement and understand the implications that retirement choices have on the entire family. This workshop is focused on planning for the retiree and is appropriate for parents, grandparents, and siblings.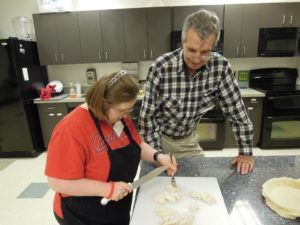 Download the Fall 2018 Family Workshops Schedule
To attend any of these workshops, please RSVP to Brianne Smith, Information Coordinator of Family Support, at 314-817-2216.