April 2018
Guardianship and Alternatives for Adults
Wednesday, April 18
6:30 – 8:30 p.m.
At age 18 your child becomes a legal adult and has the legal ability to sign a contract, make decisions about their education, and decide who can be present in their IEP meeting. This workshop will help prepare you to assess your family member's decision-making skills, their circle of influence, and answer questions about pursuing legal representation on their behalf.
How Genetics Affects Medication and Treatment
Thursday, April 19
6:30 – 8:30 p.m.
How do you know whether or not a particular medication is going to be effective? Genetic testing can help determine how a person metabolizes certain medications such as antipsychotic and anti-seizure medications as well as many others. This workshop will cover how to access this genetic testing, how it's paid for and provide specific examples of how it works to determine what medications are best for each individual.
Journey Towards Independence: A Personal Narrative
Wednesday, April 25
6:30 – 8:30 p.m.
Get tips from five young people with disabilities about their personal journeys towards independence. Barbara Stewart will moderate this group of young adult panelists with disabilities.
Family Resource Market
Thursday, April 26
3:00 – 7:00 p.m.
At this free event, families schedule 15 minute appointments for one-on-one discussions with representatives from various agencies and organizations, to learn more about how to access the services they provide. Advance registration is required for one-on-one appointments and some agencies have limited availability. Participating agencies include: St. Louis Regional Office, Social Security, and SSI.
May 2018
Planning Ahead: Estate Planning
Wednesday, May 2
6:30 – 8:30 p.m.
Learn how to plan financially for your family, and avoid unintentionally disqualifying your loved one from receiving public benefits. Topics will include estate tax planning, creditor protection, wills, avoiding probate, and planning for the distribution of property and assets, including charitable giving. This workshop is for anyone who is caring for a family member with intellectual and developmental disabilities of any age.
How to Choose a Special Needs Trustee
Thursday, May 3
6:30 – 8:30 p.m.
What qualifications, duties, and responsibilities does a person need to have in order to oversee a Special Needs Trust? This workshop will cover the basic qualifications and what is needed to step into this important role.
Quality of Life – I Know It When I See It
Tuesday, May 8
6:30 – 8:30 p.m.
Hear from Victoria McMullen, founder of the St. Louis Self-Directed Supports Peer Group and annual SDS conference, and mother to Ron, about strategies to create a meaningful day for her adult son with significant disabilities. Starting with goal development, Victoria will walk the attendees through a process to engage direct support staff and create seamless communication between a group of staff. This workshop will be highly engaging and thought provoking.
Financial Literacy
Thursday, May 10
6:30 – 8:30 p.m.
More people with disabilities live in poverty than any other group of people. Families who are caring for someone with a disability often have expenses beyond the average family. This workshop is designed to help participants become aware of the range of financial responsibilities, choices and opportunities that will present themselves over the course of their lives and to provide them with the knowledge and tools that will enable them to make wise choices, build wealth, and achieve financial security. This workshop is for caregivers and adults with disabilities who are interested in working towards their own financial security.
Duties of Guardians and Conservators
Tuesday, May 15
6:30 – 8:30 p.m.
If you find that your family member needs a guardian, who is the best choice to fill that role? Guardianship can be one of the most important decisions you make for your family. Once someone has a guardian, they are no longer legally able to make medical or financial decisions for themselves. This becomes the responsibility of the person who is appointed to become their guardian. Find out what qualities and qualifications are the best match for fulfilling the role of a guardian for your family member.
Residential Options
Wednesday, May 16
6:30 – 8:30 p.m.
This workshop will address residential options with two concurrent sessions being held to provide information for:
Individuals who will need 12 hours or less of staff support per week (St. Louis County funding/private pay)
Individuals who will need more than 12 hours per week of staff support (Department of Mental Health funding)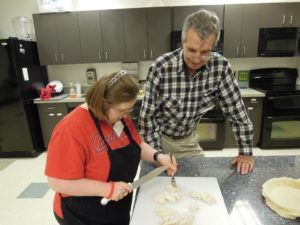 Download the full Spring 2018 Family Workshops Schedule
To attend any of these workshops, please RSVP to Brianne Smith, Information Coordinator of Family Support, at 314-817-2216.