April 2017 Workshops
Family Resource Market
Thursday, April 20 3:00 p.m. – 7:00 p.m.
At this free event, families schedule 15 minute appointments for one-on-one discussions with representatives from various agencies and organizations, to learn more about how to access the services they provide. Advance registration is required for one-on-one appointments and some agencies have limited availability.
Participating agencies include:
Medicaid
Vocational Rehabilitation
St. Louis Regional Office
Social Security and SSI
May 2017 Workshops
Special Needs Trust
Thursday, May 4 6:30 p.m. – 8:30 p.m.
Find out how to plan for the financial security of an individual with intellectual and developmental disabilities, while preserving benefits such as Medicaid and Social Security Income.
Duties of Guardians and Conservators
Tuesday, May 9 6:30 p.m. – 8:30 p.m.
If you find that your family member needs a guardian, who is the best choice to fill that role? Guardianship can be one of the most important decisions you make for your family. Once someone has a guardian, they are no longer legally able to make medical or financial decisions for themselves. This becomes the responsibility of the person who is appointed to become their guardian. Find out what qualities and qualifications are the best match for fulfilling the role of a guardian for your family member.
Balancing Needs of a Child with a Disability with their Siblings
Wednesday, May 17 6:00 p.m. – 8:00 p.m.
Siblings are the family member who will have the longest-lasting relationship with a person who has a disability. As such, they play an important role in the life of the individual with a disability.
Siblings have often had to put their own needs and feelings on hold. Come here about the experience of being a sibling of someone with a disability, which is sometimes a good thing and sometimes a not so good thing and mostly something in between.
For a complete listing of workshops through May, please download our full brochure.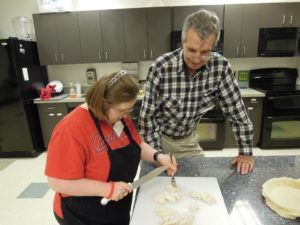 Download the full Family Workshops Schedule
To attend any of these workshops, please RSVP to Brianne Smith, Information Coordinator of Family Support, at 314-817-2216.