The St. Louis Arc is guided by the Executive Staff which consists of our President and CEO, five vice-presidents, and 20 directors. Each member of the Executive Staff represents the core beliefs of the agency: respect, empowerment, and collaboration.
Executive Staff
---

Mark A. Keeley
President and CEO
MKeeley@slarc.org
Mark A. Keeley has been an advocate for people with intellectual and developmental disabilities for over 40 years.  He joined the St. Louis Arc in 1989 as Assistant Director of Residential Services.  In 1995, Mark designed the agency's current family reimbursement respite model, which has grown to be one of the largest in the country in terms of number of families served and hours of respite accessed. In 2008, Mark was promoted to Vice President of Support Services and oversaw Children's Services, Family Support, Leisure, Employment Services and Quality Enhancement.  During his time as Vice President, he helped facilitate the merger with the Belle Center in 2012 to form the Belle Children's Services of the St. Louis Arc.  Mark became President and CEO of the St. Louis Arc in July 2015. In 2021, Mark received the Executive Excellence award from the Arc of the US National Conference of Executives in recognition of his leadership. A licensed clinical social worker, he holds a master's degree in social work from the George Warren Brown School of Social Work at Washington University.  
Tim Bradbury
Vice President of Comprehensive Services
TBradbury@slarc.org

Tim Bradbury has been with the St. Louis Arc since 1990, and has worked in the disability field for over 40 years. He holds an undergrad degree in special education and a master's in curriculum development from the University of Missouri. Bradbury currently oversees Residential and Community Engagement Services and has worked to expand residential services in the community. Under his leadership, the Arc has expanded the Community Engagement program to include the Aging With Empowerment (AWE) program.
Stephanie Scott
Vice President of Support Services and Strategy
SDScott@slarc.org
Stephanie Scott oversees Support Services at the St. Louis Arc, including efforts to improve quality of services and strategic planning. Stephanie joined the St. Louis Arc in 2010 as the Coordinator of Quality Enhancement, and in 2019 began overseeing staff training and development. She has worked to build capacity for internal evaluation and achieve the highest level of accreditation with CQL. In 2014, Stephanie was recognized as one of ANCOR's Emerging Leaders. She holds a master's degree in Social Work from the University of Missouri – St. Louis, and became a Licensed Clinical Social Worker in 2015.
John Taylor
Vice President of Advancement
JTaylor@slarc.org

John Taylor served in various fund raising and marketing capacities for the St. Louis Arc since joining the agency in 1991. Prior to accepting his current position he served as the Arc's Director of Development and Communications and as Chief Development Officer of the YWCA Metro St. Louis. A Certified Fund Raising Executive (CFRE), Taylor holds a bachelor's degree in English Literature from New York University and is a member of the Association of Fundraising Professionals, the St. Louis Planned Giving Council, and the Community Service Public Relations Council.
Kathy Tisone
Vice President of Operations and CFO
KTisone@slarc.org

Kathy Tisone is a certified public accountant, served the agency in a consultant capacity for more than a year before joining the St. Louis Arc in 1999. Kathy is responsible for the agency's finance administration, human resources, information technology, the agency-owned fleet of transportation vehicles and facilities. She holds a bachelor's degree in accounting from the University of Missouri-Columbia and is a member of the American Institute of Women Accountants. Previously she worked at Schmersahl, Treloar & Company, Adrian Baher & Co. and Citicorp Mortgage.
Director's Group
---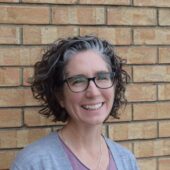 Jen Bender
Director of Nursing
JLBender@slarc.org
Jen manages the nursing staff, coordinating with families, agency departments, community agencies, and the state of Missouri to provide high quality medical care to participants in the Arc's Residential and Community Engagement programs. Additionally, she facilitates continuing education for nursing staff and provides ongoing education for St. Louis Arc staff on medical issues and protocols. Previously, Jen was a staff medical surgical nurse at Barnes-Jewish Hospital. She also has a background providing natural support, direct support, leisure support, and job coaching to people with IDD. Jen earned her Associate of Science in Nursing degree from St. Louis Community College Forest Park and her Bachelor of Science in Nursing from Central Methodist University.
Leah F. Bernstein
Director of Development
LBernstein@slarc.org
Leah Bernstein joined the Arc in September, 2022. Bringing a wealth of experience and accomplishments, Leah has contributed to the strategic development of nonprofit organizations in New York City, Chicago, and St. Louis. In addition, Leah consulted with small business leaders to increase their capacity and walk their values by investing in nonprofit missions close to their hearts. Leah earned both her Bachelor's Degree in Sociology and Masters of Science in Social Work from Columbia University in New York.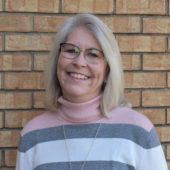 Tammy Childress
Director of Finance
TChildress@slarc.org
Tammy is a certified public accountant with many years of experience working for the State of Missouri. During her time with the State, she worked with the Department of Revenue, Office of Administration, and the Department of Social Services. In Tammy's previous roles, she worked to streamline key functions for the State such as payroll processing and Medicaid reporting.  With the Arc, Tammy's primary focus is on the processes that tie financial functions and people together. Tammy holds a bachelor's of science degree in Accounting from Oakland City University in Indiana.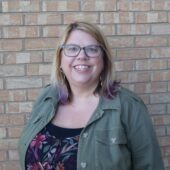 Libby Eversgerd
Director of Transition Services
LEversgerd@slarc.org
Libby Eversgerd joined the St. Louis Arc in September, 2022 as the Director of Transition Services.  She comes to the Arc with 28 years of experience as a social worker. For over 25 years Libby worked in various capacities within the foster care system, in both public and private child welfare agencies. Most recently she oversaw programs at a non-profit organization that provided support and connection to young, first-time parents as well as families with multiple children. She holds a master's degree in Social Work from the University of Missouri St. Louis, is a LMSW, and is currently working on her clinical licensure as a LCSW.
Megan Favazza
Director of Day Services
MFavazza@slarc.org

Megan Favazza oversees the agency's five community engagement (CE) sites, which provide support to adults with developmental disabilities so they can participate in their community on a daily basis. Megan holds a bachelor's degree from New York University in community based theatre and a master's in special education from Hunter University. She taught 4th and 5th grade in New York City for three years and ran theatre groups for people with disabilities to help them learn how to express their emotions. Megan joined the Arc in 2004 as a direct support professional in the Arc's North County CE site before being promoted to coordinator and then director.
 Nancy Fortune
Director of Residential Services – Community
NFortune@slarc.org

Nancy Fortune joined the St. Louis in 1986 as a direct support professional. In her tenure at the St. Louis Arc, Nancy served as a support manager and has more than ten years experience as a residential coordinator. She holds a bachelor's degree in psychology from Southeast Missouri State University and has completed graduate classes at Lindenwood and Webster University.
Sherry Grodner
Director of Human Resources
SGrodner@slarc.org
Sherry Grodner is the Director of Human Resources for the St. Louis Arc. Sherry has a bachelor's degree in Psychology from Tulane University and a master's degree in Public Administration from Louisiana State University with an emphasis in Human Resources Management.  She has held progressive roles in Human Resources in private and public sector organizations with responsibilities such as; talent recruitment, on-boarding, employee retention, team member relations, and leadership development.

Kate Hannon
Senior Director of Belle Children's Services
KHannon@slarc.org
Kate Hannon began working with Belle in 1989 as an Early Childhood Special Education teacher, and has served in a variety of capacities, including Classroom Teacher, Developmental Therapist and Executive Director. As Program Director of the new Belle Children's Services of St. Louis Arc, Kate manages the daily operations of our Embedded Early Learning Programs, and oversees our teaching staff.  She has her degree in Special Education and Education, K-12.  In addition she is certified in areas of Learning Disabilities and Early Childhood Special Education, and she provides special instruction services and evaluations through the Missouri First Steps program.  Kate also partners with a wide variety of community organizations in advocacy, inclusive practices, and curriculum.
Rhonda Hembree
Director of Leisure Services
RHembree@slarc.org

Rhonda Hembree has more than 24 years of experience in providing services and supports that help people with intellectual and developmental disabilities become actively involved in their community through leisure, recreation and volunteerism activities. For 16 years, Rhonda served as St. Louis Arc's Assistant Director of Leisure Services, and supervised a full range of recreation, leisure, and transition programs for youth and adults in the community. Rhonda holds a B.S. in Recreation and Leisure Studies, with an emphasis in Therapeutic Recreation, from Missouri State. She also has an M.S. in Recreation Administration from Western Illinois University. Rhonda has been a Certified Therapeutic Recreation Specialist, and has served as a member on the board of Missouri Parks and Recreation Association (MPRA), and as the board president and secretary of the Missouri Therapeutic Recreation Society (MTRS) in 2003 and 2004.   
Brian Hubler
Director of Employment and Transition Services
BHubler@slarc.org
Brian Hubler oversees the agency's employment department, which includes helping people with developmental disabilities obtain and maintain employment within the community. His staff provides job coaches to assist individuals in learning job skills, interview skills, resume writing, job applications and social skills. In addition, Brian works with local school districts to promote transition planning for students with developmental disabilities after graduation. Brian holds a bachelor's degree in psychology from Central Methodist College in Fayette, Mo. He joined the St. Louis Arc in 2008 from Human Support Services in Waterloo, Ill., where he served as Day Training, Work Services Director for four years. Within that role, Brian oversaw four programs that improved the vocational and daily living skills of people with mental illnesses and/or developmental disabilities.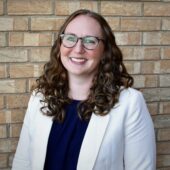 Georgia Kuss
Director of Quality Enhancement and Training
GKuss@slarc.org
Georgia Kuss began with the Arc in 2015, first serving as a direct support professional in residential services and then as a manager in day programs. Previously, she has worked as a researcher at Boston Children's Hospital, a camp counselor for persons with disabilities in Ohio and Wisconsin, and a social worker with St. Louis area schools. In her current role, Georgia works with her team to design, implement, and evaluate staff trainings. She also coordinates the Arc's accreditation process and collaborates with other departments to develop meaningful quality metrics. Georgia has an undergraduate degree in psychology from Kenyon College and dual master's degrees in social work and public health from Washington University in St. Louis. She became a Licensed Clinical Social Worker in 2020.
Beth Moeller
Director of CONNECT
BMoeller@slarc.org

Beth Moeller has been with the St. Louis Arc since 1990. Beth oversees the CONNECT program, which is geared for individuals who require a limited amount of support, but would like help connecting to social, educational and recreational opportunities in their community. Prior to becoming a Director, Beth served as a Residential Coordinator for the Arc. Beth earned her Master's degree in Teaching from Washington University and is a trained life coach from the Institute for Life Coach Training.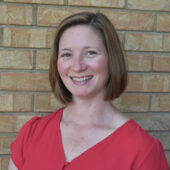 Niki Parres
Director of Marketing
NParres@slarc.org
Niki Parres oversees the St. Louis Arc's marketing strategy and development. In her role, Niki supports Arc's programs in developing and implementing marketing strategies, and creating engaging content and marketing materials. Niki began her career in higher education, working at universities in Chicago and St. Louis. She has an extensive background in design, marketing, advertising, event planning, and communications. Niki received her bachelor's degree in Communications and her master's in Advertising and Marketing from Webster University.  
Victoria Parres
Director of Information Technology
VParres@slarc.org
Victoria Parres joined the St. Louis Arc in 2008 bringing more than 15 years of experience in accounting and business management. Vicky previously served in various capacities, including Corporate Controller, for J.W. Terrill where she developed and implemented strategic plans, automated operations, and streamlined processes. A graduate of Saint Louis University, Vicky holds a bachelor's degree in Business Management with an emphasis in Accounting.
Katharine Rug
Director of Nutrition Services
KRug@slarc.org
Katharine is a registered dietitian and Director of Nutrition Services for the St. Louis Arc. Katharine has worked for the St. Louis Arc since 2011 and recently received her Master's Degree in Medical Nutrition Therapy with an emphasis in pediatric nutrition from Saint Louis University. Currently, she is working to establish nutrition programming at the Arc that will include nutrition education classes for staff, supported individuals, and families, as well as individualized medical nutrition therapy services. Katharine hopes to provide unique resources on cooking skill development, grocery shopping, and budgeting, as well as the diet-disease relationships.
Kathleen A. Schue
Director of Communications and PR
KSchue@slarc.org

Kathleen Schue oversees the Arc's communication and public relations strategy and planning. She began her career in publishing, graphic design, marketing and communications in the private sector before moving to the non-profit world. Kathleen has an extensive background in development, fundraising, events, and communications. Kathleen received her bachelor's degree in Fine & Performing Arts and Communications (double major) from Saint Louis University and her MBA through the Olin Business School's EMBA program at Washington University in St. Louis.
 Sharon Spurlock
Senior Director of Family Support
SSpurlock@slarc.org
Sharon Spurlock has worked with people with developmental disabilities since 1982. She worked in residential supports and employment services and oversaw the St. Louis Arc's Community Integration programs for 19 years prior to moving into Family Support. Sharon is recognized as an expert in person-centered philosophy and advocacy. Sharon's passion is helping people with disabilities and their families find great supports in the community. She began her current job directing St. Louis Arc's family support services in 2008.
Craig Strohbeck
Director of Residential Services Dautel Circle
CStrohbeck@slarc.org
Craig Strohbeck oversees Residential Services at Dautel Circle. His background includes strategic planning, program development, person-centered outcomes/evaluation, and staff coaching. Craig has his B.S. in Recreation and Park Administration from Illinois State University, and is also a certified therapeutic recreation specialist. In addition, Craig also gives his time to the following organizations: Missouri Board of Healing Arts, Advisory Commission on Speech/Language Pathology and Audiology; Therapeutic Recreation Association of Greater St. Louis, and St. Charles County Coalition of Service Providers.
Mary Anne Tolliver
Director of Aging Services
MTolliver@slarc.org

Mary Anne Tolliver joined the Arc in 1984 as a direct support professional. Fifteen years later she was named to her current role, where she supervises the St. Louis Arc's Dautel Circle. Mary Anne holds a master's degree in public administration from Southern Illinois University—Edwardsville. She is area representative for the Missouri chapter of the American Network of Community Options and Resources (ANCOR) as well as the committee chair for the St. Louis area (SLANCOR). A national speaker on end of life care, Mary Anne has completed certification with the National Task Group on Intellectual Disabilities and Dementia Practices for Dementia Capable Care of Adults with ID and Dementia.
Dana Walker
Director of Children's Services
DWalker@slarc.org
In her current role, Dana manages Children's Services, including Capable Kids and Families (CKF), Parents Learning Together (PLT), and The Embedded Site Leader model within community settings. In addition to supporting the Children's Services staff, she is an active member of the Family Supports Team. Dana's previous experience includes Child Life Specialist, Developmental Therapist, Site Leader, and Early Childhood Program Coordinator in a variety of settings. Dana holds her Bachelor of Science in Human Development and Family Studies-Child Life from University of Missouri-Columbia and her Master of Science in Community Counseling from University of Memphis. She is also a Certified Child Life Specialist (CCLS) and Certified Educator of Infant Massage (CEIM).