Providing daily support to adults, as they work toward their goals in the community.
Community Engagement Services provide support to adults with intellectual and developmental disabilities, so they can become active participants in their community.
The St. Louis Arc currently offers three day program options, Community Engagement (CE), Learning Independence for Tomorrow (LIFT), and Aging With Empowerment (AWE).  Programs are located throughout nine sites in St. Louis.
Community Engagement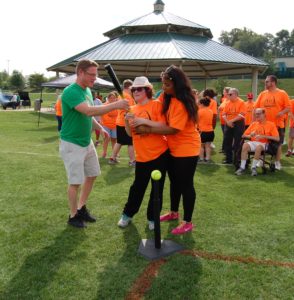 Programs operate Monday through Friday from five convenient locations in St. Louis City and County. Participants will usually begin and end their day at a specific site, but spend the majority of their day in the community.
We assist our participants in developing action plans, so that they can make daily choices about the activities and interests they want to pursue. The people who receive support through Community Engagement Services take part in a wide variety of volunteerism, recreational, and educational activities throughout the St. Louis area. Support ratios are typically between 1:4 and 1:1.
How to Get Started
Participants must be 19 years old or older with a diagnosed intellectual and developmental disability and live in the Greater St. Louis metropolitan area
Complete a two-day free trial to determine if the program will be appropriate for the individual and if they want to participate
Attend an evaluation meeting between the participant, his or her family members, St. Louis Arc staff, and the participant's Department of Mental Health service coordinator
Determine funding. Funding is most often secured through the Department of Mental Health / St. Louis Regional Center's Medicaid Waiver and POS accounts. Private Pay is also an option.
If you would like to tour a program site and discuss opportunities for receiving services, please email [email protected].
Learning Independence for Tomorrow (LIFT)
Using a variety of strategies, Lift works with individuals to develop skills to best manage their own behaviors. LIFT offers intensive skill-building based on person-centered goals, learning styles, and preferences. Individuals in the program have the opportunity to develop skills both on-site and in the community through engagement, volunteer, and leisure activities. LIFT offers low support ratios, so individuals can develop the foundation necessary to pursue more traditional day programs and supported employment. For more information, please email [email protected].
Aging With Empowerment (AWE)
Aging With Empowerment is a program which empower older adults to stay active and engaged. Learn more about the AWE program.
Current Participants
Current participants and families can keep track of important dates with the 2022-2023 LIFT program calendar and the CE and AWE program calendar.