We support not only the individual, but the
family as well.
At the St. Louis Arc, parents, siblings, significant others – all family members are welcome. We are committed to helping you connect to resources and become effective advocates for your loved ones. Whether you are looking to interact with people going through the same challenges, or in search of an activity for the entire family, the St. Louis Arc provides a lifetime of support.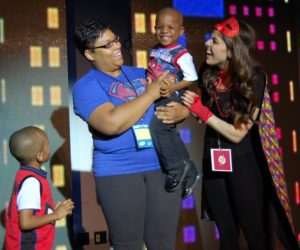 If your loved one has recently been diagnosed with a disability, our President and CEO Mark A. Keeley has a few words of encouragement.
The St. Louis Arc's in-home residential support program, ARCH (Assistance with Residential Care in the Home), reimburses primary caregivers for short-term care of their loved one. Families often refer to this service as respite.
Get together with other family members who understand the unique challenges of having a loved one with a disability.  Various support groups for your specific needs are offered year round.
Throughout the year we offer families the opportunity to participate in a variety of exciting activities together.
The Family Workshop Series is designed to provide in-depth information on topics related to supporting family members with intellectual and developmental disabilities.