RESPECT • COLLABORATION • EMPOWERMENT
Our Mission
The Mission of the St. Louis Arc is to empower people with intellectual and developmental disabilities and their families to lead better lives by providing a lifetime of high-quality services, family support and advocacy. We are also guided by our core beliefs of Respect, Collaboration, and Empowerment.
We work hard to provide the kind of individualized services that can really help make a difference to an adult… to a child… to a family. Services provided are designed to maximize choice and to support people as they build quality lives within the St. Louis community.
Accreditation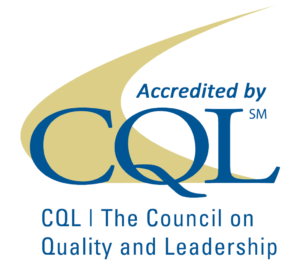 The St. Louis Arc is recognized as a quality leader among professional agencies. Since 1983, St. Louis Arc has been accredited by The Council on Quality and Leadership (CQL), an international not-for-profit organization dedicated to being a leader for excellence in the definition, measurement and evaluation of personal and community quality of life for people with disabilities. CQL standards are recognized by federal and state government as benchmarks for quality. We have been accredited by CQL continuously since 1983. In 2004 we were one of the first to be awarded a Value-Added accreditation and in 2016 we became the eighth organization in the world to achieve Person-Centered Excellence Accreditation with Distinction.
People First Language
The St. Louis Arc emphasizes the use of "People-First Language" in all references to the individuals and families we serve. People-First Language helps us to remember that those we support are people who have individual interests, needs and desires. No one should ever be reduced to the sum of their diagnoses or conditions. It is a philosophy that underlies all of our services.
Charity Accountability
The St. Louis Arc meets the Standards for Charity Accountability of the Better Business Bureau.