Identify, plan, and achieve your life goals.
Launch
Launch is designed for teens and young adults, age 16-30, who are interested in beginning to plan for their future.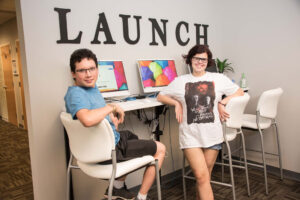 Launch is a program for individuals who:
Have a goal of living independently, continuing education, building relationships, or connecting with the community.
Need minimal support
Motivated to achieve set goals
Obtaining a job in the community
Independently navigate resources
This program offers a combination of one-on-one coaching sessions and group classes to identify and work toward an individual's goals. Through Launch, individuals will enhance their interpersonal and self-management skills in order to achieve goals in the areas of relationship development, education, employment, and independent living.
Launch is composed of 5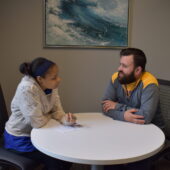 classes and 5 one-on-one coaching sessions per month. Classes may include topics such as money management, managing your own household, social skills, and apartment cooking. One-on-One coaching sessions will provide the opportunity for individuals to touch base on set goals while reviewing keys skills such as time management and organization. To learn more about Launch/NextED please complete this eligibility form and someone will reach out to you.
NextED
NextED is a program for young adults, age 18-30, who are ready to take the next step toward living independently. This research-based program utilizes hands-on learning, video modeling, and virtual reality to work toward self-directed living. Each session offers 10 weeks of in-person and virtual instruction. Through skill-building experiences, young adults will explore how to best use the relationships, connections, and resources in their lives to be successful in a more independent setting. To learn more about Launch/NextED please complete this eligibility form and someone will reach out to you.
NextED Challenge
Through a residential summer camp experience, NextED Challenge provides young adults an opportunity to challenge their expectations of living on their own. Attendees participate in hands-on learning, interactive group activities, and community exploration while staying in apartment-style living. To learn more about NextEd Challenge, contact [email protected].
Pre-ISLA
The Pre-Independent Supportive Living Arrangement (Pre-ISLA) program guides adults, ages 18 and up, as they begin their path to living independently.  This program offers 1-on-1 support for individuals interested in moving out on their own in the future. Through Pre-ISLA, individuals work on skills to get them ready to move out on their own and live independently. For more information on these programs, contact Beth Moeller, Director of Community Living at 314-817-2271.