Are you an employer looking to add depth to your workforce? Are you thinking of hiring qualified, capable people with disabilities, but aren't sure about next steps?
We can meet your needs!
Finding and retaining reliable, dedicated workers is a challenge for all employers, but the St. Louis Arc makes it a lot easier. Employment Services are available at no cost to your business. You simply pay the employee's wages and the Arc staff do the rest.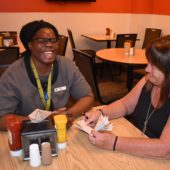 Benefits to You Include:
Reduced Turnover and Recruitment Costs – Fill high-turnover positions with long-term, dedicated workers. The average tenure for the people we support is 5-8 years.
Enhanced Team Environment – Loyal employees who truly enjoy their jobs result in higher morale among ALL of your team members.
Positive Public Image and Customer Loyalty – According to the U.S. Department of Labor, 87% of American consumers surveyed would prefer to give their business to
companies that hire people with disabilities.
Tax Credits – Your company may be eligible for a Work Opportunity Tax Credit (WOTC) up to $2,400 for each individual with a disability hired.
Diversified Workforce – Diversifying you workforce helps you appeal to a diverse customer base. One in five Americans has a disability, representing a significant segment of your market!
How the Employment Services Team Can Help Solve Your Staffing Needs
We take the time to know your company and provide free job and efficiency analysis.
We present you with pre-screened, pre-qualified applicants based on criteria you establish.
You make the hiring decision.
Our professional staff provides consultation with on-boarding, training and ongoing supports to help you and your new employee have a successful relationship.
We provide ongoing assistance and retraining as needed or as job duties change.
We offer disability and diversity awareness training to your current workforce at no cost to you.
Types of Positions Our Candidates Fill Include:
Hospitality Industry – busser, cashier/clerk, dining room attendant, dishwasher, restaurant host, cafeteria worker, hospitality aide, laundry attendant
Warehouse/Manufacturing – productions line worker, shipping clerk, warehouse support, inventory management, office clerical, data entry
Healthcare – data entry, hospital support, medical records clerk, custodian, office clerical, call center attendant, stacker/sorter
Retail and Professional – rental car preparer, office clerical, maintenance assistant, library attendant, research assistant, mail sorter/delivery, data entry
Did You Know?
People with disabilities typically stay at one employer longer than people without disabilities.
People with disabilities take fewer vacation days than other employees.
Employees with disabilities are more punctual and use fewer sick days than employees without disabilities.
Get Started Today
If you are interested in getting more information or setting up a meeting to discuss employment opportunities with your company, please contact someone from our Employment Services Team:
Brian Hubler, Director of Employment and Transition Services
Tom Hutson, Assistant Director of Employment Services; 314-817-2220
Taylor Hartmann, Assistant Director of Pre-Employment Services, at 314-817-2225
Review common questions employers have about using the St. Louis Arc's Employment Services to help solve staffing needs. See what other employers have to say about hiring an Arc participant to work with their company.