Be creative, get active, and make new friends.
St. Louis Arc is committed to helping young people build their self-esteem and allow them to express themselves through art, music, sports, and more.

Teen Bowling (13-20)
Grab your bowling ball and shoes and hit the lanes for some bowling fun. For more information, contact Ashley Price, Coordinator of Leisure Services, at 314-817-2250.
Many of our leisure activities support adults ages 18 and older. These classes, activities, and sports leagues provide people of all abilities the opportunity to stay active, meet new people, and have fun.
Social and Instructional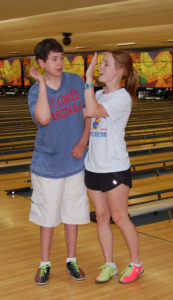 Monthly classes and events for adults such as music, cooking, dances, and book clubs.
Seasonal club and league sports for adults of all abilities like soccer, bowling, softball, golf, and basketball.
View or download a PDF of the 2024 Winter Leisure Times for a complete schedule of activities or visit the online registration page. For financial assistance, please click here.
Please help us in our efforts to go green, by using our secure online registration and payment method. Not only does this option save trees, it is also the fastest option to secure your program selections since our programs do fill up quickly . We accept credit cards, and echeck payments.