A Message from St. Louis Arc's President and CEO, Mark A. Keeley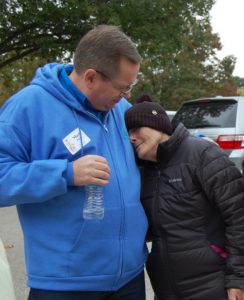 Dear Friend:
My name is Mark Keeley and I'd like to welcome you to the St. Louis Arc. If your loved one has recently been diagnosed with a disability, then you're most likely experiencing a range of emotions: from worry and fear to confusion and anger. That's a completely normal reaction. As one of our parents described when their son was born with Down syndrome:
"It was like being dropped off in a foreign country where you don't speak the language and you don't have a roadmap to direct you home."
Let me assure you, we are here for you. The St. Louis Arc has been assisting people who are on a similar journey as yours since
1950. Whether you access our services on a temporary basis, or for a lifetime, we're here for you whenever there is a need. Here are a few suggestions I have for helping you on this journey.
Educate Yourself
You may be tempted to surf the internet to gain knowledge about a specific diagnosis, and that is a valid reaction. However, you can also take advantage of the St. Louis Arc's Family Workshops. They provide in-depth information on topics that families have specifically told us they want to learn more about. The workshops are free, open to anyone, and take place during the fall and winter months.
Network with Others
You might be feeling alone, but there are countless others who can relate to what you're going through. The St. Louis Arc offers many support, networking, and meetup groups that allow people an open environment to discuss the challenges and accomplishments of raising or living with someone who has an intellectual or developmental disability.
Take Time for Yourself
Sometimes it's hard for a caregiver to admit when they need a break, but you can't take care of someone else if you're feeling overwhelmed.  I highly recommend accessing St. Louis Arc's In-Home Residential Support, also referred to as "ARCH" or "respite". ARCH reimburses caregivers for short-term relief services that they receive either in their own home or in the home of a care provider.  The program is family-driven, with families determining when they need care and who provides it.
As we welcome you into the St. Louis Arc family, just remember that you are not alone. We're on this journey together.
Sincerely,
Mark A. Keeley
President and CEO