We support more than 4,000 people a year
Since 1950, the St. Louis Arc has been promoting an inclusive world for all people. We're proud of the impact we've made in the lives of so many individuals and families. Read stories about St. Louis Arc participants.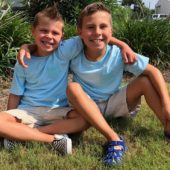 When first meeting the Seger family, most people will be immediately drawn to the energetic, smiling young brothers. These boys are typical brothers – they argue, are competitive, they play fight, and they watch out for each other. The Seger family has been part of the St. Louis Arc since 2013. Both Tanner and Dominic have developmental disabilities and physical disabilities that require therapies, including physical, occupational, and music therapies
Read the full story
1,200
Pieces of therapy equipment and developmental toys the Arc has access to in the Capable Kids and Families program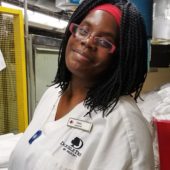 Chakeeta Thomas grew up in north St. Louis County. She loved to learn new things, however she recognized early on that learning was a challenge. She struggled at home, sharing a small space with her grandmother and two brothers. In spite of her obstacles, Chakeeta made it a goal to live independently. Through hard work and fierce determination, and with the help of teachers, her caseworker and staff from St. Louis Arc – Chakeeta has achieved more than she ever dreamed possible.
Read the full story
392,499
Hours of in-home residential support (respite) used by families in 2021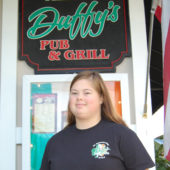 Grace Mehan joined the St. Louis Arc's summer program Neighborhood Experiences in 2008. The program enabled Grace to volunteer and work at various job sites. By the end of the summer, Grace and her Arc staff partner created a professional portfolio and resume showcasing her accomplishments. Today, Grace works two jobs as a hostess at restaurants in her neighborhood. "Grace has always been social, but now she's much more independent," said Brendan Mehan, Grace's older brother.
Read the full story
421
Participants who were assisted on their path to employment in 2021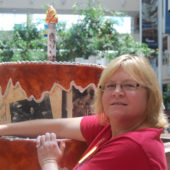 Since moving into the St. Louis Arc's assisted living community in late 2013, Mary Beth Reese has built an exciting and busy life for herself. Mary Beth starts each weekday at the St. Louis Arc's Community Integration program, where she participates in a variety of volunteer, recreational, and educational activities throughout the St. Louis area. Additionally, Mary Beth reached a significant milestone when she obtained her first job. As a resident of the St. Louis Arc, Mary Beth receives support that enables her to continually pursue her interests.
Read the full story