Join our group of enthusiastic young professionals.
The Young Friends aims to raise awareness about the St. Louis Arc among the region's young professionals and volunteers. It's a great opportunity to meet new people, have fun, and raise money through fundraising activities.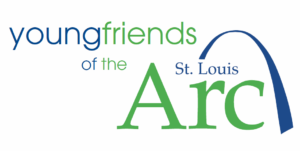 What it means to be a Young Friend:
Support and raise awareness of the mission of the St. Louis Arc
Receive invitations to all Young Friends and St. Louis Arc sponsored events
Access to volunteer opportunities with the Young Friends board members
Opportunity to share your skills, educate the community about disability issues, and positively impact the lives of people
What It Means to be a Young Friend Board Member:
Meet quarterly to discuss events, fundraising efforts, and volunteer opportunities
Attend three St. Louis Arc sponsored charity or volunteer related events throughout the year
Become an active participant on one of the board committees
Contribute a meaningful financial contribution
Recruit qualified candidates to join the board or general member base
Most importantly, have a good time and know that you're making a difference in the lives of many great individuals and families!
If you are interested in becoming a member of the Young Friends, please contact Andrea Bringardner, Special Events Manager, at 314-817-2241.
To view our current Board Members, click here.
Connect with the Young Friends:
Facebook: Young Friends of Arc
Twitter: @youngfriendarc
LinkedIn: Young Friends of the St. Louis Arc
Instagram: Young Friends of St. Louis Arc