Make An Impact During Giving Tuesday
---
Making Choices, For a Life in the Community
Jake Martine will tell you his ultimate goal in life is to "live and dream big." And to Jake, that means having fun in life, having a job, a home of his own, getting married and having a family, growing big and strong, and being a role model. It's a tall order, but one Jake and his family are embracing.
"We knew from a prenatal test that Jake would be born with Down syndrome, so we kind of got started right away, preparing and learning," recalls Jake's dad Andrew. As a baby, Jake received services from The Belle Center, which emphasized the value of inclusion, and being part of a family and community.
The Martines also connected early with a group of parents who've provided support and friendship through the years. As Jake grew, he was included in school and church activities, alongside friends, neighbors, and his sisters Avery and Sydney.
Transitioning to Adulthood
But when he graduated from high school, Jake's life started to look a little different than he'd planned. Suddenly he was no longer a part of daily activities at school with his peers. Life-long friends moved away to college. Jake started a vocational experience, but he wasn't ready to work five days a week, and his big dreams seemed far from being realized.
"In a lot of ways, this transition has been harder for us than when we first learned of Jake's genetic diagnosis," said Brandie, Jake's mom. "Sometimes it felt like we'd worked for 18 years to change people's assumptions about Jake, and he was still ending up where he didn't want to be."
The Martines turned to their community, especially St. Louis Arc, for support and resources. For Jake, there were Arc programs like NextED, Neighborhood Experiences, United Soccer and Basketball, and the chance to deejay at Arc's dances. He took a class about relationships and joined a Self-Advocate group. When the COVID-19 closures hit, St. Louis Arc created virtual opportunities, like the E-Sports gaming league, so Jake could stay connected.
His parents turned to St. Louis Arc to support their own advocacy for Jake, participating in workshops and parent training, and getting help as they navigated critical decisions on guardianship, benefits, estate planning and more.
Just as Belle Center had once taught the young parents how to care for their child, St. Louis Arc was there to help as they envisioned a new role in their adult son's life.
Jake's Next Steps
Recently that has meant helping Jake head off to college. "We're excited if we can give Jake the similar experience as his siblings, with opportunity to continue his education, have time to mature, and a chance to find his path in life," said Brandie.
Now, at age 21, Jake lives on campus and takes classes at UMSL, through the University's SUCCEED program.
"I get ready for class, get to class on time, eat lunch," Jake says, detailing a typical college student's day. He's also been making new friends, trying new things, and learning to take care of himself along the way.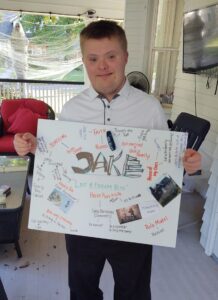 For his parents, Jake going to college is another step along his path to independence. Says Brandie, "Our family's goal has always been for Jake to have a life that is his choice, in the community. We've really tried to plan with that end in mind."
When Jake visited his home on a recent weekend, he brought up his calendar on his phone and started telling his mom all the things he had coming up. "It stood out to me, because it wasn't me telling him what he has to do," explained Brandie. "He's in charge now, not me."
"We're learning what Jake is capable of when given the opportunity," she said. "He's learning, he's figuring it out, and he's being accountable."
His dad agrees. "Jake's always surprising us, and I think we feel more confident now that he'll find the support he needs," said Andrew. "He's exceeding our expectations–exceeding my expectations. I'm very proud of him."
---
With your support for St. Louis Arc, young adults like Jake can find the services and resources they need to succeed and plan for their future.