St. Louis Arc's Aging With Empowerment (AWE) day program now proudly offers three unique sites in St. Louis County, including Creve Coeur, Hazelwood, and Maplewood. The AWE program focuses on community involvement and personal goal achievement just as our flagship Community Engagement programs do, but with a focus on supporting seniors, retirees, and those who enjoy a slightly slower pace.
AWE South
Located in Maplewood, AWE South provides many wonderful and unique community-based opportunities, including volunteerism at other non-profit organizations, bowling, pinball, a cat café, exciting eateries, and other local shops. The AWE-South program currently supports approximately 15 adults with developmental disabilities who are between the ages of 40 and 70. They enjoy accessing their community daily, creating art using various mediums, reconnecting with their hobbies, and learning fun new things about the world around them. The staffing team is experienced in providing engaging supports as well as participating in additional trainings on the aging process and how it may affect the people we support. AWE South is located in a building that hosts two other Arc Day Programs providing many opportunities to engage with adults of all ages as well as a wide variety of activity and engagement options.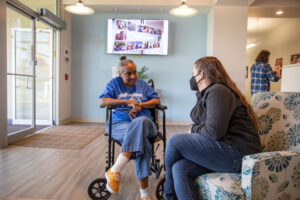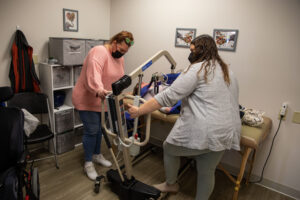 AWE Central
Located in Creve Coeur, AWE Central is the first of its kind to provide aging-focused services to adults with developmental disabilities. AWE Central opened in 2017 and currently serves approximately 25 adults with disabilities between the ages of 50 and 80. The program space is beautifully designed to be bright and cheery while using dementia-capable principles to support our participants in navigating and understanding the space as independently as possible. The staffing team is knowledgeable about providing activities and care to those experiencing memory concerns or Dementia and those who are experiencing a wide variety of mobility-support needs. The participants at AWE participate in a plethora of skill building, leisure, and social activities to keep them active and engaged during their retirement years, including a science club, weekly bingo, and music therapy, along with accessing their community regularly.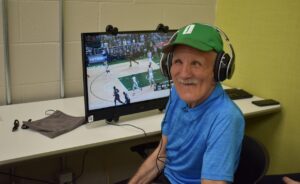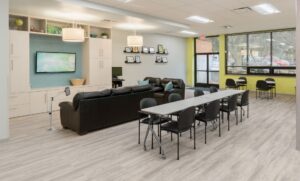 AWE North
Located in Hazelwood, AWE North opened in 2019 to offer an aging-focused program in the North County area for individuals with disabilities who wanted to regularly access their community at a slower pace. AWE North currently serves 15 adults with disabilities, ages 45-70. They enjoy accessing their community daily to go places such as historical attractions, volunteer opportunities, shopping, and local libraries for classes and activities. The staffing team is exceptional at implementing engaging and accessible activities for all and is able to provide both memory care and a variety of mobility supports. This program is located in the same building as one of our Community Engagement programs, providing daily opportunities to engage with others of all ages, create even more relationships, and also ease transportation issues for residential providers needing to transport multiple individuals to multiple programs.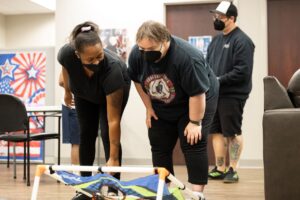 Get Started Today
All three locations are accepting new participants. AWE is able to provide some medical, mobility, and/or behavioral supports.  and would be happy to discuss specific questions with potential new families. To contact us about a tour, please email [email protected] to get started. An automatic reply will be sent with an electronic intake questionnaire. Once that is completed, a staff member will contact you to set up a tour at your preferred locations.