Four years ago, a casual conversation about the power of photography sparked a unique community connection. Beth Moeller, Director of Community Living, and a member of the International Photography Hall of Fame and Museum, were discussing how photography can give people another way of communicating. A collaboration began that provided individuals with autism or learning disabilities the opportunity to learn to use photography as a medium to express themselves.  
"Connecting Through Photography" is a 4-session photography course offered by the St. Louis Arc's Connect program. The course is a partnership between the St. Louis Arc, International Photography Hall of Fame and Museum, and Maryville photography professor (and Arc staff member) Max Bouvatte. The goal of the course is to provide an opportunity for students to learn how to use the power of photography to connect to the outside world, their community, and to one another.   
More Than Photos
Students utilize a convenient tool, their own smartphone camera, to learn essential digital camera functions and gain practical skills through the use of an apps manual camera settings. The course allows students to complete fun photo projects inside and outside class. Students also collaborate on projects and work with each other throughout the course, practicing key social skills. Throughout the course, students discuss concepts of photography with each other, utilize each other as models, and provide encouragement to each other. "Hopefully, they found a connection with their fellow classmates," shared Max. "This group got out of their shells, and having a fun medium to use, such as photography, allowed them to loosen up and interact."   
Each class started with students talking about themselves as a way to interact but also as a way to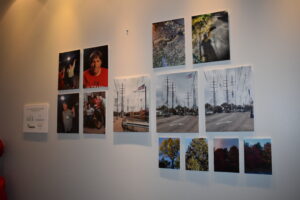 identify photography ideas. At the end of the course, students submitted their three best photographs to be displayed at the Arc's Maplewood Hub location. The class allowed students to not only interact with peers but provided an opportunity for them to learn new skills to utilize in the community. Max taught the students, "if you feel a creative spark, follow that lead. Photography provides a way for us to look back at what we've done and build memories." 
To learn more about the Connect program and future activities, contact Beth Moeller, Director of Community Living at 314-817-2271.