At 22, Alex Ott is a confident, well-spoken and thoughtful young man. Just like anyone in their twenties, he loves to spend time with his family and friends and is often found at the swimming pool. He currently volunteers at SSM Health St. Mary's Hospital and is working with St. Louis Arc staff to land an internship that will hopefully lead to a full-time job. He also hopes to live independently one day.
Alex's family did not believe any of this would be possible twenty-two years ago.
Growing Up
Just a few days after Alex's birth his parents knew there was a problem. Alex could not eat. "Alex struggled with feeding. His muscles weren't working properly," said Mimi, Alex's mom. "The doctors couldn't give us a clear-cut diagnosis to help us know what to do." Fortunately, Alex and his parents were about to learn the difference the Arc's lifetime of support would make. Barbara Stewart, a family friend and the founder of the Belle Center, offered the first glimpse of hope.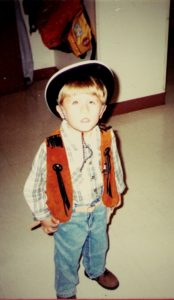 Belle, which became part of the Arc in 2012, was where Alex and his family met Marlene, their first occupational therapist. Marlene worked tirelessly with Alex, creatively employing a drinking straw to develop the muscles that would later help him eat. At 10 months of age, Alex took his first drink through the straw and everyone began to cry with excitement. "We knew what this moment meant. That this would lead to so many other things in life. Not only would he be able to feed himself, but he would be able to speak to us," Marlene said.
In school, his teachers initially thought that because Alex was quiet he didn't comprehend what was being taught. But they would grow to understand that he often doesn't speak unless he has something meaningful to say. He has developed a magnetic presence that impacts everyone around him. Mimi says, "This journey has shown us that typically developing kids, teachers, all of us, learn more from kids like Alex than the other way around."
Alex Today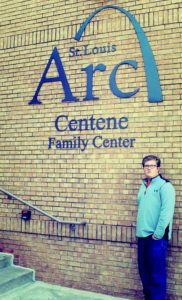 Today, Alex remains in touch with the many friends he has made since middle school. His 21st birthday was announced during a Cardinal's game and he's become a recent fan of the Blues. "I really enjoy movies, sports and having people over to the house. I like to be in the middle of the energy and activity." And as his friends, family and co-workers will attest, he is successful at whatever he puts his mind to.
Alex's favorite experience with the St. Louis Arc is an annual event, Superheroes for Kids, which raises money to support the very services he knows best. "I really love super heroes. I can tell you their names and their power and what movies they've been in." And this affinity makes sense. According to Mimi, "the fight for inclusion has been real. It takes a while for families to figure out what is happening and to know their rights. This journey, where families and advocates stand together to fight for inclusive rights, has been hard but it is worth it."
Mimi is quick to give gratitude to the St. Louis Arc for the support they have provided, but it is clear that Alex is the real-life super hero of this story. His courage and persistence have helped pave the way for others to struggle a little less in the fight for inclusion. He is an example of how all people, regardless of how different their abilities might be, can achieve anything they dream of doing.
Alex and thousands of others just like him, soar to new heights every day with your support. If you'd like to make a difference, learn more about the ways you can donate to the St. Louis Arc.