Around the halls of the St. Louis Arc Family Center, Grace Mehan is something of a celebrity. It is not because of her infamous Facebook page, Grace's Glendale Bus Stop, which has close to 900 "likes", or even that she was selected by the Huffington Post in April 2012 as their "Greatest Person of the Day." As anyone at the St. Louis Arc will attest, once you meet Grace Mehan it is impossible to forget her, or as her mother Colleen explains, "Her spirit and personality is pure Grace, not Down syndrome."
Now in her twenties, Grace is a high school graduate, attends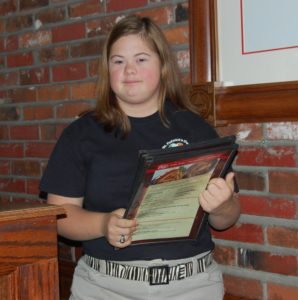 Special School District job training classes at Webster University, works two part-time jobs as a restaurant hostess, plays in the Arc soccer and basketball leagues, and writes a monthly column, or an "Arc-ticle" as she calls it, for the Arc's Family Insight Newsletter. Grace's parents, Tom and Colleen, attribute her success to the love of her family, along with support and guidance first from the Belle Center and now the St. Louis Arc.
In 1992 Colleen and Grace began attending Belle's parent-infant classes when Grace was three months old. Therapists worked with Grace to build her muscle strength, prepared her for crawling and sitting up, and assisted with her speech and cognitive development. "The Belle Center helped us raise Grace and they helped us raise ourselves to raise Grace," said Colleen. "They were the best support we could have hoped for."
As Grace grew into her teens, she joined the St. Louis Arc's summer program Neighborhood Experiences in 2008. Grace volunteered and worked at various job sites and at the end of the summer, she and her Arc staff partner created a professional portfolio and resume showcasing her accomplishments. Even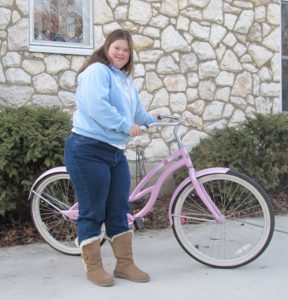 Grace's younger sister, Maggie, noticed a developing maturity. "Now she takes the bus by herself, or she'll walk to my high school to watch a field hockey or basketball game by herself." Older brother Brendan commented, "Grace has always been social, but now she's much more independent."
From that point on, Grace's involvement with the Arc snowballed. She joined the basketball league, as well as the Arc United soccer team. She was also one of the first to sign-up for a new Arc program called Creative Music Making. This gave Grace and other Arc participants the opportunity to perform with musicians from the St. Louis Symphony and Maryville University's Music Therapy program, culminating in a concert at Powell Symphony Hall.
In addition to her many Arc activities, Grace has found another calling: to be a self-advocate. Grace gives speeches to schools about disability awareness and was involved in a "flash mob" with the Arc in March 2012. Grace and other advocates danced to Aretha Franklin's "R-E-S-P-E-C-T" at the Missouri History Museum and in Westport Plaza. The "mob madness" raised awareness about ending the use of the hurtful term "retarded."
"Here's the truth," explained Colleen. "The people at Belle and the people at Arc, and others who work in this part of life, are made of such great stock. They have outstanding character and their hearts are so big and in the right place."
In June 2012 the Mehan family learned that the Belle Center was merging into the St. Louis Arc, and they were elated. "We used to always say, 'there needs to be a connect between what Belle does and what the Arc does,'" said Tom. "We were so excited and instantly on-board with it," remarked Colleen.
"We thought it was the right thing to do, so that the services are continuous and done with the same focus and the same spirit."
With each transition, Grace has gained strength and confidence as she works towards independence. "The Arc always has good people around," said Grace. "They make you feel proud of yourself."