Since moving into the St. Louis Arc's assisted living community in late 2013, Mary Beth Reese has built an exciting and busy life for herself. At 48-years-young she shares a home with five other ladies, and has immersed herself in many St. Louis Arc programs. Mary Beth takes part in the St. Louis Arc's Community Integration program, where she participates in a variety of volunteer, recreational, and educational activities throughout the St. Louis area.
One of the first things you'll notice about Mary Beth is her love of music, especially country, gospel, and hip-hop. In 2016 Mary Beth's support staff encouraged her to get involved with Creative Music Making. This program pairs musicians from the STL Symphony and students and faculty from Maryville University's Music Therapy program with people supported by the St. Louis Arc. Over the course of three days, St. Louis Arc participants create and perform an original piece of music. Mary Beth made her stage debut at Maryville University, singing and dancing to songs in front of an audience of family and friends.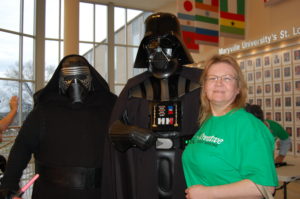 Additionally, Mary Beth is a member of Active Living, a program that keeps older adults energized and stimulated.  St. Louis Arc staff and participants work together to create a monthly calendar of activities to try, such as arts and crafts, photography, gardening, and much more. It was through Active Living that Mary Beth found out about two other Arc programs that she immediately joined: Cooking Class and Walking Club.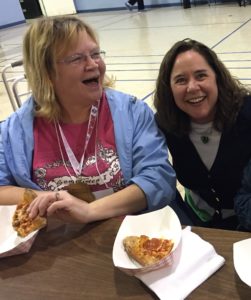 Mary Beth also reached a significant milestone in 2015 when she obtained her very first job. She currently works part-time, three days a week, at Heartland Industries where she helps to assemble packages and prepare items for shipping.
In her down time, Mary Beth enjoys attending Cardinal games, watching shows at the Fabulous Fox Theater, and grabbing a bite to eat at local restaurants. If you were to ask Mary Beth what her favorite past-time is she would most definitely reply: shopping!  Mary Beth is a part of an extensive family, she is one of eight siblings, and enjoys spending time with them. Mary Beth's support staff know that her family is integral in her daily life, whether it be talking to one of her sisters on the phone, or going out to dinner with her brother.
As a resident of the St. Louis Arc, Mary Beth receives support that enables her to continually pursue her interests.